November 15, 2021
COVID-19: Sanitary measures maintained in our offices and stores
Although certain targeted mesures have been announced by Minister Dubé, we confirm that recommended sanitary measures are still in place in our offices and stores. Surgical mask wearing, hand washing and social distancing are still in effect in our Quebec, Lévis, Montmagny and Rivière-du-Loup sales offices. And we're here to assist you in your project!
To join us :
1 800.463.2024
info@lorendo.com
To consult our opening hours:
https://www.lorendo.com/en/contact-us/
To request a quote online:
https://www.lorendo.com/en/online-quote/
April 1st, 2021
COVID-19: Targeted emergency measures for certain regions of the province
A new phenomenon has appeared in our region. The rapid and exponential increase in confirmed daily cases of Covid-19 variants in certain regions and city of the province which forced Prime Minister François Legault to announce, at a press briefing yesterday, to put in place targeted "emergency" measures in certain regions of Quebec.
 The entire regions of the Capitale-Nationale, Saguenay Lac St-Jean, Outaouais, as well as those of Chaudière-Appalaches and Bas-Saint-Laurent are once again in the red zone after a brief stint in orange. 
 The cities of Quebec, Lévis and Gatineau, at the maximum red level, are therefore particularly targeted by these emergency measures, including the return of the curfew at 8 p.m. and the closure of schools and non-essential businesses. For these regions, it is therefore a return to the same type of pause and lock-down in January, summed up the Prime Minister. These targeted measures will be in effect from Thursday, April 1, 8 p.m. until April 12. This pause is decreed on the recommendations of public health, said François Legault. Teleworking remains compulsory.

WE CONTINUE TO BE AVAILABLE TO YOU
 Construction and renovation sites remain open. Our Lorendo manufacturing plants therefore will continue its essential activities to honor our commitments and obligations while respecting the sanitary measures in force.
In compliance with the Covid-19 measures in force, our sales offices are open in virtual mode and online. We are available according to the opening hours published on our website via phone, chat, email, virtual meetings (video conferences) and facebook to support you in your project. If, however, you need to visit to one of our sales offices to meet with an advisor for a project, please contact us to make an appointment before arriving instore.
 Thank you for your understanding.
We continue to be there for you!
 To reach us or make an appointment:
1 800.463.2024
info@lorendo.com
 To request a quote online:
https://www.lorendo.com/en/online-quote/
January 6, 2021
COVID-19: 4-week lock-down. We are open virtual!
Faced with an outbreak of confirmed cases and a worrying increase in hospitalizations, the Legault government considers the situation critical to even serious and must tighten health measures to ensure the safety of Quebecers and protect the health network. As confirmed in his press conference on January 6, 2021, general confinement will be in effect on January 9 for a period of 4 weeks, mandatory teleworking and non-essential businesses closed until February 8. A curfew will also be in place from January 9 to February 8, from 8 p.m. to 5 a.m.
The renovation sector remains open
According to the APCHQ, construction and renovation projects may remain open despite the new measures announced. The manufacturing sector will be able to continue with its essential activities to meet its commitments and obligations while tightening health measures.
We will be in virtual mode!
In a collective effort to reduce the spread of the virus, our sales offices will continue in virtual mode. If, however, contractors and customers must go to one of our point of sales during this period, please contact us to make an appointment before coming in. We will continue to process online requests for quotes and ensure a prompt return within 24-48 hours. We will be available according to our usual schedule via phone, chat, email, virtual meetings to support you in your project.
Thank you for your understanding.
We continue to be there for you and your project, but differently!
To reach us or schedule a virtual meeting:
1 800.463.2024
info@lorendo.com
December 16, 2020
COVID-19: HOLIDAY TIME - IN VIRTUAL MODE
At its press conference Tuesday, December 15, the Legault government informed the province of Quebec that it was putting the holidays on hold from December 17 to January 11, with a view to stemming the second wave of coronavirus spread and reduce the pressure on our healthcare system. To this effect, a tightening of public directives has been implemented according to the specific sectors of activity. Stores will therefore have to close from December 25 to January 11 and the teleworking put in place during this period.
Lorendo will remain open online during the holiday break! Don't hesitate to request a quotation for your project on lorendo.com during this time. We'll continue to reply to your online inquiries within 24-48 hours. The Lorendo boutiques will be open until Friday, December 18 at 6 p.m. and will be back, according to the sanitary guidelines in effect, on January 11, 2021!
We wish to thank all our employees who have made our beautiful brand shine this year, a year filled with challenges. Thank you for your dynamism and enthusiasm. We wish you joy, happiness and rejuvenation. We look forward to seeing you again in 2021 for new challenges!
A special thank you to all our customers for their vote of confidence in 2020, a year of exceptional dimension. We have worked very hard to serve you despite the pitfalls that the pandemic has thrown at us. We look forward to serving you in 2021!
Happy Holidays everyone!
NEW ALL PVC HEAVY-DUTY 
WINDOW
---
To celebrate our 100th anniversary, we are launching a brand-new all-PVC Lorendo profile.  The HEAVY-DUTY Series has been developped to surpass current industry standards with an exclusive 2.2mm thick shutter and profile. It is the thickest on the Quebec market to date. Stronger and more rigid, it makes the PVC windows more efficient and more durable! Indeed, its effectiveness lies in the thickness of its exterior structural components, unique in the industry.
Like our other Lorendo PVC profiles, the Heavy-Duty is tested at -30 ° C, -40 ° C and -50 ° C. It is Energy Star® certified and in addition, comes with a limited lifetime warranty*! (* White PVC window. Details in store).
The HEAYV-DUTY series is available for casement or awning windows with contemporary or classic shutters. Don't hesitate to come to the store for more details. Our advisers will be happy to explain all the advantages of the new HEAVY-DUTY technology!
LORENDO HOME SHOW'S SEASON 2022:
---
Salon de l'Habitation Chaudière-Appalaches
Centre des congrès, Lévis
14-16 january 2022
www.sh-ca.ca
Expo habitat Québec
Centre de foires ExpoCité, Québec
24-27 february 2022
www.expohabitatquebec.com
LORENDO NOW IN RIVIÈRE-DU-LOUP!
---
We are delighted to announce that the Lorendo family is growing. last October, Lorendo has set up a new store at 100 Boulevard Cartier in Rivière-du-Loup. Steven Valiquette, who has more than 10 years of experience in doors and windows, will be delighted to advise you in terms of the latest and most performing Heavy-Duty and Hybrid doors & windows' technologies. Whether you are an individual or a building contractor, we custom manufacture our doors and windows to suit the very specifications of your home, cottage or multiple units project you wish to renovate or build. Come visit our new boutique and showroom, discover our wide selection of trendy doors, windows and accessories and enjoy competitive prices directly from the manufacturer. Welcome to Building & renovation contractors.
A LITTLE HISTORY ...
---
In 1897, Amédée Laurendeau carried out carpentry work in the basement of his house located in Saint-Jean-Port-Joli. It was around 1920 that he moved into a new workshop adjoining his house to make general carpentry. Almost 20 years later, he died and it was his 2 sons Thaddée and Albert who took over the reins of carpentry. They registered the name "Laurendeau et Frères" in the early 1940s. Little by little, the workshop was transformed into a manufacture of doors and windows sold mainly in the region. During the last years prior to Thaddée's sale in 1974, around twenty workers could be employed in the factory during peak periods of activities.
PROMOTION FINISH
---
This year, Lorendo Portes et Fenêtres celebrates its 100th anniversary! Since 1920, Lorendo has been finetuning its processes, products and services! For the occasion, we are please to introduce our Anniversary promotions: A fabulous designer style steel door you can't miss out on and our all new Heavy-Duty windows series! Exceptional quality at exceptional prices! Together, let's start celebrating and uplift the look and performance of your house!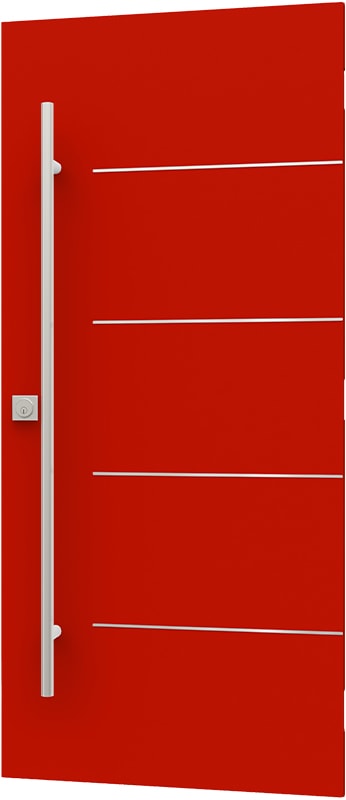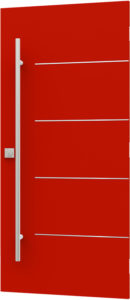 THE LORENDO ANNIVERSARY DOOR PROMOTION

In this Anniversary year, take this fantastic opportunity to indulge yourself and acquire the very stylish front door you've been dreaming of and give a sensational instagrammable look to your new home or renovation:
Stunning contemporary style steel entry door
With decorative stainless steel appliques
With a contemporary 48 '' stainless steel pull bar
With a square satin nickel lock
Gentek colors available: bright red or black
What color will you choose?


LA FENÊTRE ANNIVERSAIRE LORENDO
In this Anniversary year, we also take the opportunity to present our exclusive all Heavy-Duty Series, designed to surpass the current norms and standards in the industry. We have developed this new technology, which combines a 2mm thick shutter and PVC profile, the thickest on the Quebec market to date, bringing the rigidity, robustness and energy performance of PVC windows to a higher level. Discover the Heavy-Duty Series in the forthcoming home shows or come visit us in store. Our advisers will be thrilled to present all of its energy-efficient and energy-saving benefits.
THE ALL-PVC HEAVY-DUTY LORENDO WINDOWS
Thicker, stronger, stiffer, more efficient and more durable PVC profile and shutter
Heavy-Duty profile are available for casement or awning windows
Heavy-Duty profile are available in contemporary or classic shutter
Choice of double or triple glasses
Wide choice of colors