A LITTLE HISTORY ...
---
In 1897, Amédée Laurendeau carried out carpentry work in the basement of his house located in Saint-Jean-Port-Joli. It was around 1920 that he moved into a new workshop adjoining his house to make general carpentry. Almost 20 years later, he died and it was his 2 sons Thaddée and Albert who took over the reins of carpentry. They registered the name "Laurendeau et Frères" in the early 1940s. Little by little, the workshop was transformed into a manufacture of doors and windows sold mainly in the region. During the last years prior to Thaddée's sale in 1974, around twenty workers could be employed in the factory during peak periods of activities.
PROMOTION FINISH
---
This year, Lorendo Portes et Fenêtres celebrates its 100th anniversary! Since 1920, Lorendo has been finetuning its processes, products and services! For the occasion, we are please to introduce our Anniversary promotions: A fabulous designer style steel door you can't miss out on and our all new Heavy-Duty windows series! Exceptional quality at exceptional prices! Together, let's start celebrating and uplift the look and performance of your house!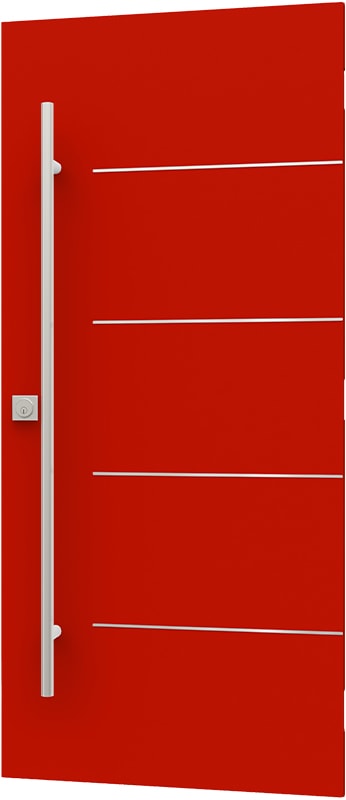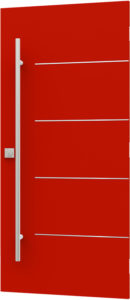 THE LORENDO ANNIVERSARY DOOR PROMOTION

In this Anniversary year, take this fantastic opportunity to indulge yourself and acquire the very stylish front door you've been dreaming of and give a sensational instagrammable look to your new home or renovation:
Stunning contemporary style steel entry door
With decorative stainless steel appliques
With a contemporary 48 '' stainless steel pull bar
With a square satin nickel lock
Gentek colors available: bright red or black
What color will you choose?


LA FENÊTRE ANNIVERSAIRE LORENDO
In this Anniversary year, we also take the opportunity to present our exclusive all Heavy-Duty Series, designed to surpass the current norms and standards in the industry. We have developed this new technology, which combines a 2mm thick shutter and PVC profile, the thickest on the Quebec market to date, bringing the rigidity, robustness and energy performance of PVC windows to a higher level. Discover the Heavy-Duty Series in the forthcoming home shows or come visit us in store. Our advisers will be thrilled to present all of its energy-efficient and energy-saving benefits.
THE ALL-PVC HEAVY-DUTY LORENDO WINDOWS
Thicker, stronger, stiffer, more efficient and more durable PVC profile and shutter
Heavy-Duty profile are available for casement or awning windows
Heavy-Duty profile are available in contemporary or classic shutter
Choice of double or triple glasses
Wide choice of colors